Welcome to the interactive section of [Biotechnology - the food solution], while here you will find the most interesting things on can ever find on the world wide web. First, there are games, very nice, interesting and educational games, on this part. There is also a special and even more interesting flash game I created (INSECT INVADERS®). In this interactive flash game, you will help kill as much insects as you can using a swatter, the insects have come to destroy our crops, so the hope of our crops lie on you the more insects you smash the more points you earn. The screen shot of the game is below.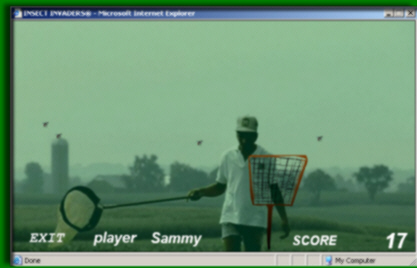 That is not all, there are also quizzes (short and standard quizzes), the short quiz for the kids and junior scientists while the standard for the developing and developed scientists. I must confess, if you don't know much on biotechnology and science in general then you cant make a half of the points, because the questions are a bit tough.
You can also view people's opinion on this site or make your comments on the site in the guestbook. If you are looking for biotechnology news and more discoveries or you have one just go to the forum and you are done! Have a nice time.